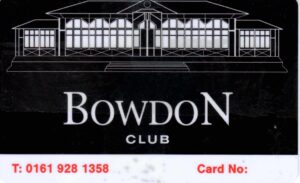 NEW BOWDON CLUB CARD
The card replaces the "White Card" and has several purposes.
For gaining entry to the club where we are fitting "Tap In" Pads, planned for 7th April 2022
Also, it gains access to the Squash Courts for those members who play or wish to play Squash or Racketball.
The card identifies the holder as a member of the Bowdon Club, if over 18, can purchase alcoholic drinks at preferential prices.
Now available to under 18's with their Parent, Guardian or Carer consent. The new card allows Parents, Guardians or Carers to load money onto the account. Of course, these cards are barred from purchasing alcoholic drinks.
You must be up to date with your subscription via the Go Cardless system.
See the FAQ list below
There has been a great up take in the Bowdon Card but some members have not picked up their card from the club.
We are asking you to pick up to save your money but if this causes a problem email admin@bowdonclub.com We will post it to you, but make sure to confirm your address details.
Social Membership qualifies for the New Bowdon Club Card – Membership costs as low as £40.00 a year
Join now